---
Recent Obituaries
---

---
In Our Care
Sheets and Childs Funeral Home is here to help tell your loved one's story.
---
Send Flowers
Honor the life of a loved one by sending a beautiful flower arrangement. All of the flowers
Order Flowers
---
Prepared by Local Florist
Same-Day Arrival
Guaranteed Hand Delivery
---
About Us
---

---
Our Family Serving Your Family
---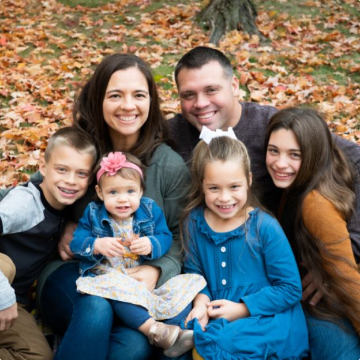 Family Owned
Miles & Tarah Wilson
---
Taking ownership of Sheets & Childs Funeral Home on July 1, 2016, Miles serves as the funeral director and a pre-need professional. He also serves as the aftercare specialist, where he extends the funeral home's care to families long after the funeral service is over, assisting them with any needs they may have.
---
Learn More About Us
---
---
Latest Technology
---
---
Peace of Mind
We know there's a lot on your mind. We let you focus on what matters most.
---
Digital Obituary Pages
Forever Photos
LiveStreaming
Collaborate
Flowers & Cards
An obituary to remember.
Services for your loved one are streamed live and recorded forever on a dedicated page.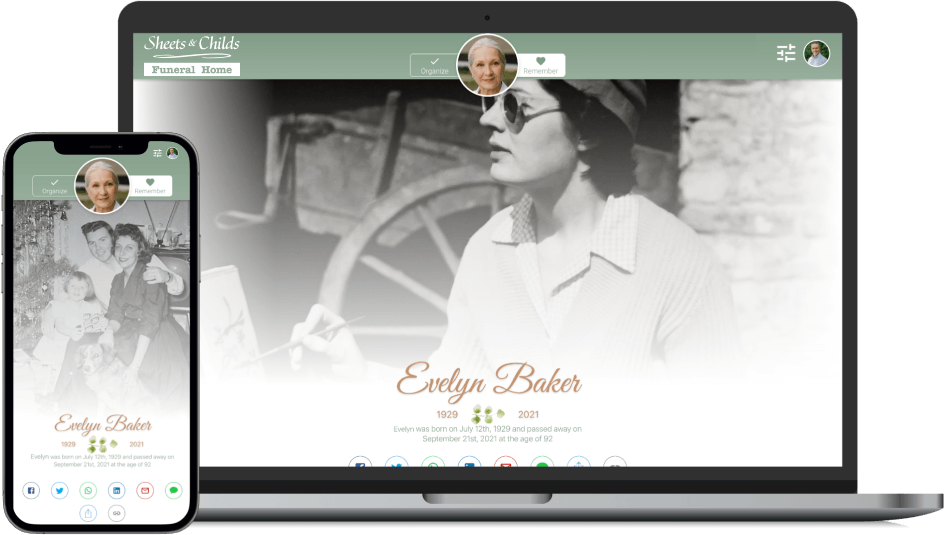 ---
Next: Forever Photos
REMEMBER. TOGETHER.
Invite Family & Friends to upload photos.
Preserved forever.
---
Next: LiveStreaming
For all those who wish they could be there.
We can live stream & record all of your loved one's services, viewable on any device.

---
COLLABORATE
Work together with our simple, easy-to-use app.
Works on any device. Invite anyone to be a helper.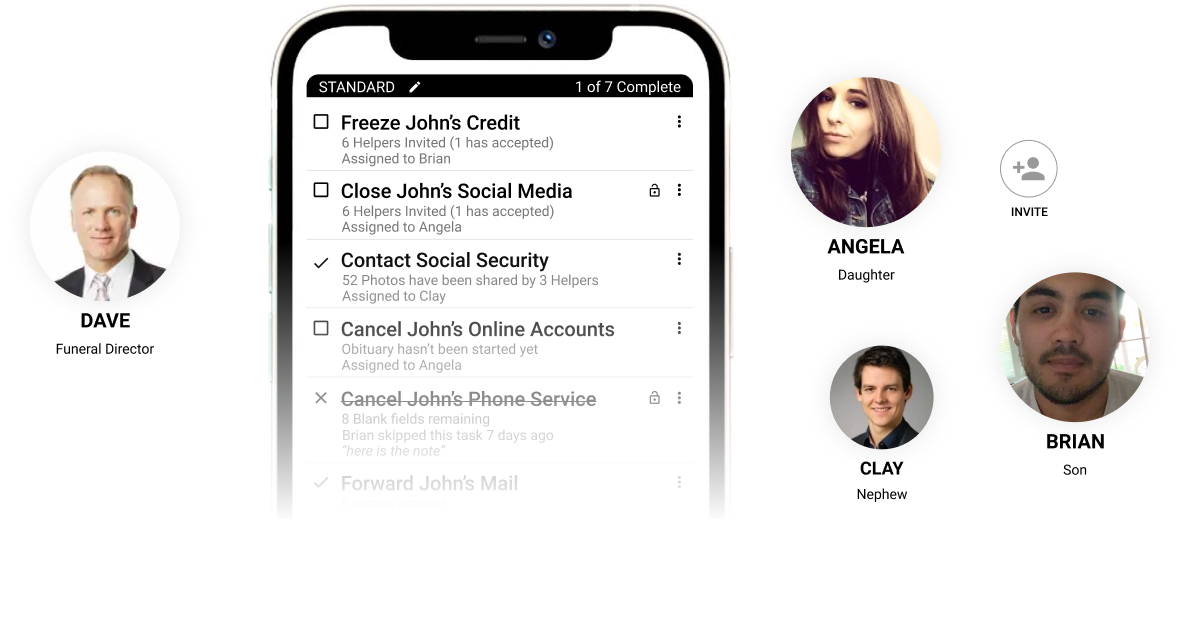 ---
KEEPSAKES
Flowers & Cards are preserved on your loved one's page.
Even the smallest touch can make a big difference.

---
---
Testimonials
---
---
What Our Families Are Saying
---
"... I can't even begin to thank you for ALL you and your staff did to make my Mom and Dad's funerals so memorable. That is correct my Mom and Dad past away exactly one week apart with my Dad passing first. Miles did such a tremendous job. I am one of 10 in our family and I cannot thank Miles and his staff for his professionalism and attention to every detail. This allowed our family concentrate on supporting each other in our loss. Miles, made my mother look like mom again even after 4 years of dementia and alzheimer declined her body. Thank you seems so inadequate but Miles that and this recommendation that anyone who wants a professional and complete funeral experience please see Miles and his staff. "
Charlie Schortgen
"Miles and staff - Thank you just doesn't seem to cover the appreciation and gratitude I have for the way you handled dad's (Glen Anderson) funeral. The kind and caring manor of all the staff helped us through the difficult decisions, and gave us the time we needed to focus on family and friends. Your top notch professionalism and geniune compassion allowed us to honor dad in the way he would have wanted. You all are truly a blessing! "
Jodi Malcom
"Miles and his staff are friendly, caring, compassionate, service minded professionals. They actively listened and taylored their services to our needs. They provided exceptional service, stayed within our budget, and took exceptional care of our family in our time of need. If you are in need of his services or are thinking of pre-planning, I would highly recommend contacting Miles and his staff at Sheet's & Child's. "
Nick Bianski
"... I can't even begin to thank you for ALL you and your staff did to make my Mom and Dad's funerals so memorable. That is correct my Mom and Dad past away exactly one week apart with my Dad passing first. Miles did such a tremendous job. I am one of 10 in our family and I cannot thank Miles and his staff for his professionalism and attention to every detail. This allowed our family concentrate on supporting each other in our loss. Miles, made my mother look like mom again even after 4 years of dementia and alzheimer declined her body. Thank you seems so inadequate but Miles that and this recommendation that anyone who wants a professional and complete funeral experience please see Miles and his staff. "
Charlie Schortgen
"Miles and staff - Thank you just doesn't seem to cover the appreciation and gratitude I have for the way you handled dad's (Glen Anderson) funeral. The kind and caring manor of all the staff helped us through the difficult decisions, and gave us the time we needed to focus on family and friends. Your top notch professionalism and geniune compassion allowed us to honor dad in the way he would have wanted. You all are truly a blessing! "
Jodi Malcom
"Miles and his staff are friendly, caring, compassionate, service minded professionals. They actively listened and taylored their services to our needs. They provided exceptional service, stayed within our budget, and took exceptional care of our family in our time of need. If you are in need of his services or are thinking of pre-planning, I would highly recommend contacting Miles and his staff at Sheet's & Child's. "
Nick Bianski
---
---